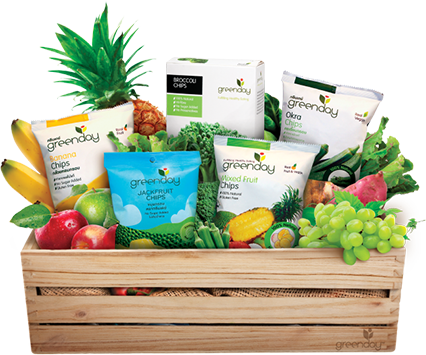 Greenway Healthy Snack
Borne out of the mantra "We are what we eat", Greenday is a creation of our passion to change the world of snacking by encouraging people to eat well, and live well. To make the natural appetite for goodness a normal way of life.
Using only the freshest and best quality produce, we capitalize on break-through food technology to create a range of ethically produced natural snacks at its best. Through our vacuum frying, freeze drying and gently air crisp under low heat process, 100% of the nutrition remains intact in our fruits and vegetables. All preservative free, all natural and a delicious guilt free indulgence for the whole family to enjoy.
We aim to improve lives, not just that of our customers but the lives of the farming communities we touch. We drive communal farming programmes, work closely with farms and suppliers, encouraging fair trade and labour policies and sustainable farming practices. In a world where we are now defined by our role of business in our economy, we don't want to just be the best in the world, but be the best for the world. We are driven by our passion for good.